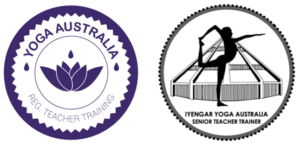 The 600+hr Yoga Teacher Training Course - YTTC
Sue Everett of Still_Move Yoga has developed a 24-month definitive training for dedicated practitioners who aspire to teach Yoga, providing a clear and effective methodology to help shape the individual's practice and learn the skill sets & diversity of yoga teaching via online training components.

The Yoga Teacher Training Course is registered with the following yoga associations:
– Yoga Australia          
– Iyengar Yoga Australia
Prospectus – Please request Sue Everett's 600+hr Yoga Teacher Training Course-YTTC Prospectus via this website's contact page.
Treading the Path – The basis of the YTTC which is offered through the lens of an Iyengar Yoga technique, lies in the cultivation of a regular personal yoga practice along with an exploration and study of yogic principles and wisdom. The emphasis is also on how to teach to a particular experience-level of yoga, as well as exploring the asana variations needed in managing an injury or health issue. Practical guidance is offered throughout the training on how to approach this.
YTTC requires a dedicated commitment to ongoing personal practice and self study between the online contact sessions, so it is important that
 participants be self-motivated. It is up to you how much you embrace the content in this course. You are encouraged to take the step in becoming
 self-reliant; engaging with the course content proactively.
YTTC is structured to prepare participants to be confident yoga teachers after graduation

– Still_Move Yoga YTTC graduates can apply for Level 1 Teacher membership with Yoga Australia. For further details, please request Sue Everett's 600+hr Yoga Teacher Training Course-YTTC Prospectus via this website's contact page.
– Referral for Iyengar Yoga Certification in Australia may be available for Still_Move Yoga YTTC graduates deemed ready to sit this external exam.
HOW TO CHOOSE YOUR TRAINING TEACHER...
Yoga teacher training can be an intense process. It is vital that you & your training teacher have a solid relationship and open communication.
The YTTC is an online training course. Direct contact & class attendance via Zoom is an essential part of the ongoing training. This is offered on a weekly basis through live online group yoga sessions, with individual contact scheduled monthly via Zoom.
Direct 'in studio' contact may also available periodically.
A student wishing to train as a yoga teacher must have been practising yoga regularly for a minimum of three years and be 16 years or older before undertaking yoga  teacher training.
An interview with Sue via phone or Zoom is required to assess readiness to embark on the training.
The yoga teacher training course commitment is two years, there is no fixed commencement date, as I accept eligible students into the program at any time.

I look forward to discussing your training options and a way forward.
Please request the YTTC Prospectus via this website's contact page.
Namasté
Sue Everett
WHAT IS AN IYENGAR YOGA TEACHER...
An Iyengar Yoga teacher must complete rigorous training plus sit an external examination to become fully qualified. The Iyengar Yoga method is recognised and respected as one of the most deeply faceted forms as it holds a practical, philosophical and spiritual value for all. An Iyengar Yoga teaching certificate is valid worldwide.
Only Certified Iyengar Teachers are entitled to use the name of yoga master BKS Iyengar and his teaching method. Each Certified Teacher is committed to upholding the excellence and purity of Iyengar Yoga, one of the word's most widely practised yoga's.
Yoga Immersions can be a great way to delve into a broader tasting of the yoga experience without the need to join a teacher training course. Scroll down to read more about this alternative study option. See the Immersions page for all Yoga Immersion online sessions and 'in-studio' locations & dates.
CONTINUING EDUCATION PROVIDER

Sue Everett is a Continuing Education Provider with the following associations:
Iyengar Yoga Australia
Yoga Alliance (USA)
Yoga Australia  
If you are a Registered Yoga Teacher or Trainee Teacher with these associations, join me online for Teacher Development and/or Yoga Immersion and your attendance will count towards your Continuing Education or Continuing Professional Development Requirements.